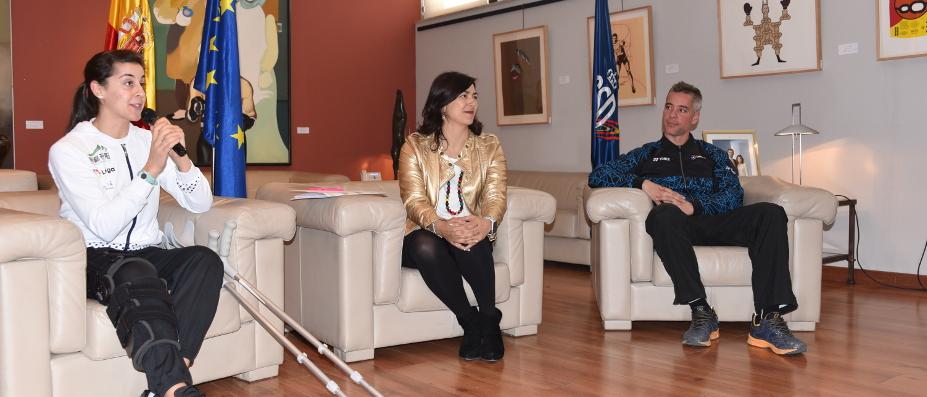 María José Free, Carolina Marín: "Your effort to overcome, your effort and your record will bring you back to the highest "
Madrid, 18 February 2019.-The High Council of sports (CSD) has hosted today's press conference Marín Carolina on the evolution of his knee injury suffered at the end of January until the end of the disputed Masters of Indonesian badminton.
The event was attended the presiding CSD, María José Free, who has transmitted to the Spanish player much encouragement and support of the institution that leads. In this sense, it has recalled that has at its disposal all the human and technical resources existing in the facilities of the CAR of Madrid for their recovery occurs in the best possible way.
In addition, Free has been convinced that Carolina Marín will be first levels of competition when completed his rehabilitation: "you are very large, your effort to overcome, your effort and your record will bring you back to the top. Do not hesitate, we do not hesitate, are with you. "
Finally, the president of the CSD has grateful to be "an icon " in the world of badminton and do so" million children want to practice this sport. " "Has opened an impressive track of which we are very proud " has finished.
Carolina Marín: "Come Back when you are sure " to 200%
The three times world champions has recognized that the first days after the injury were "horrible ", but that after the operation changed his mentality and began to think about the positive things of what happened." Motivation remains intact, we were not gone. There has been pain and suffering and much remains to suffer, but I have the clear objective, " explained.
On his return to competition, Carolina Marín, has said that "not checked time, it will be when my confidence and my knee are safe to 200% " and now facing these months as" a new challenge " which aims to end reach Tokio 2020 in the best conditions and with options to "get a medal ".
Moreover wanted to thank the support received by his team of doctors, fans and sponsors, "without them it would be impossible to be in good condition," said.
Carolina Marín has been accompanied by her coach, Fernando Rivas, which has explained that the injury "will serve to improve the range tactical, is an opportunity to transform technically Carolina. "" Will Be difficult moments, but together we will overcome with an eye to Tokio ", has added.
Backing of sponsoring
In the event have also been present representatives of different brands Carolina Marín sponsorship. On behalf of all of them spoke Javier Tebas, president of LaLiga, brand that accompanies the onubense player for years.
It Tebas has emphasized his "spirit of struggle and sacrifice " and has been convinced that" this moral you put in your competition you will continue to defend the flag and leave it at the top. " "You Have all Spaniards behind empujándote " has finished.