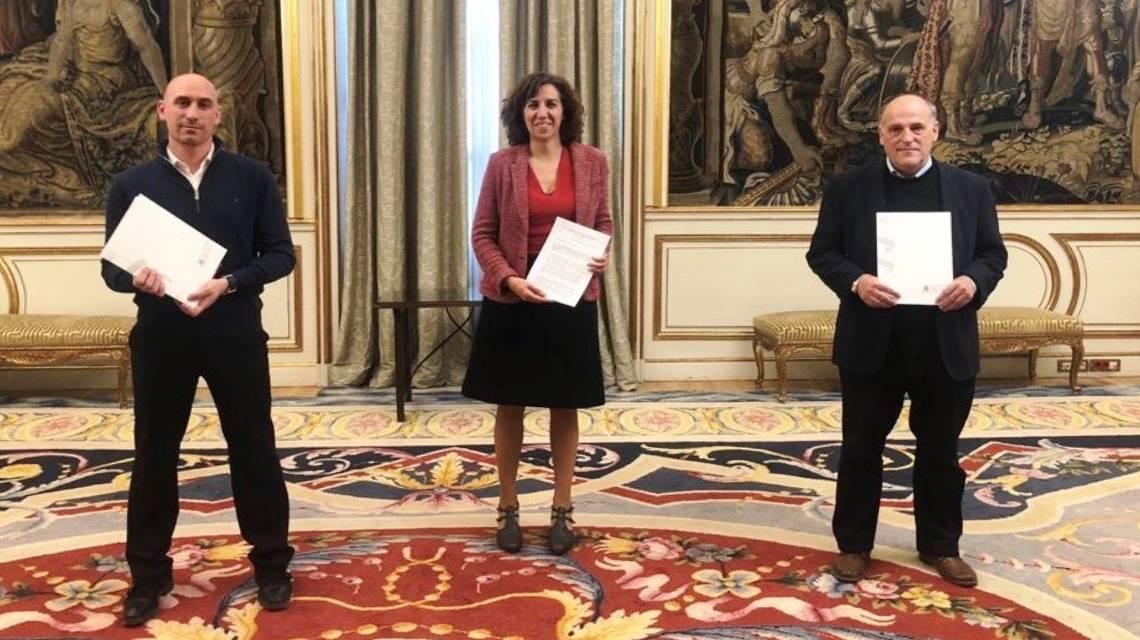 The CSD, LaLiga and RFEF bargain the future return of football and a bailout to sport and athletes
Madrid, 20 April 2020.The High Council of sports (CSD), LaLiga and Real Spanish football Federation (RFEF) have agreed to return to workouts of professional football, a fact that remains, in any case, to the evolution of the pandemic of COVID-19 and decisions taken by the ministry of Health. Thus, will occur if and when the sanitary circumstances permit and under strict medical protocols.
After the meeting of more than eight hours that took place last Saturday in the palace of Viana (foreign ministry, HAT and cooperation), the president of the council, Irene Lozano; the president of LaLiga, Javier Tebas; and the president of the RFEF, Akpan Rubiales, pledged equally to devote part of the resources that generate media rights of football to a bailout the rest of sports, Olympic and Paralympic. Furthermore, the presidents of LaLiga and the federation signed a commitment to create a contingency fund of EUR 10 million – which will invite involve others such as the association of footballers AFE- to help athletes more vulnerable.
The global pact between the parties goes beyond. After the constructive talks the palace of Viana agreed drafting a code of conduct of football, applicable to all its directors, managers and agents, that can serve as a reference for other professional sports, and to strengthen an honest and sincere dialogue and provide good relations between the various institutions of football.
The parties also undertake to work together in a coordinated way abroad, to contribute to the reputation of Spain and strengthening our image as a country of sport insurance. In this context becomes especially important Iberian candidature to the World Cup 2030, event at which the government's full support understanding that the understanding in football, which is essential for the possibilities of our country.