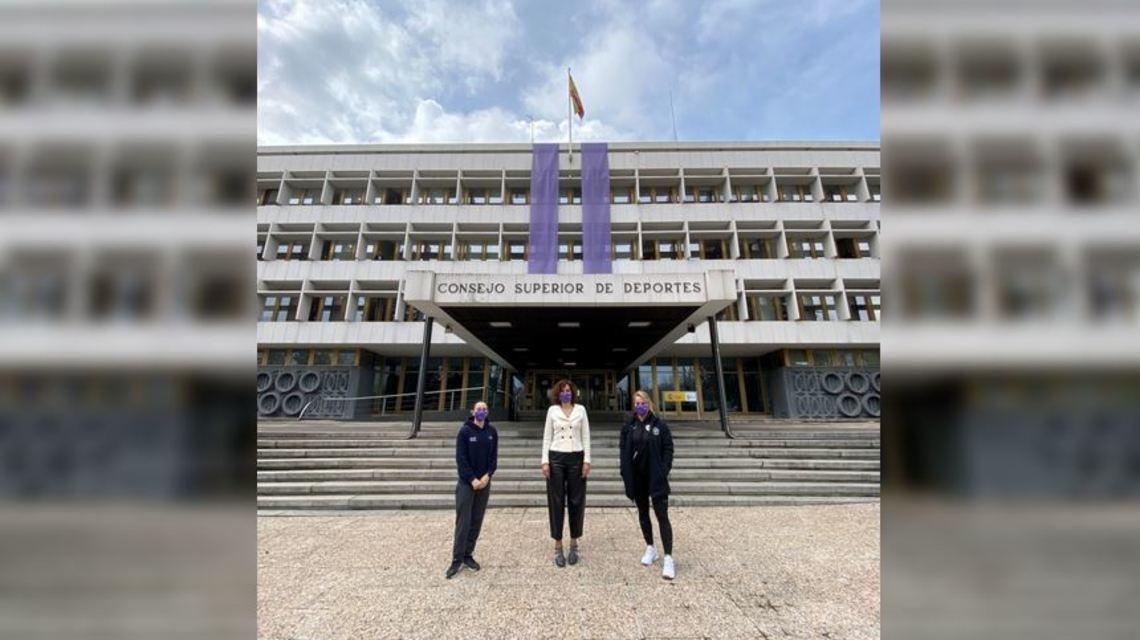 The CSD affirms the role of women in sport on the occasion of the 8-M
Marisol Casado, Jennifer Hermoso, Lydia Valentín, María Delgado, Ana José Cancio and Guadalupe Porras, among others, are involved in a video that shows the importance of women in different sports Areas such as management, competition, journalism, or arbitration
The president of the council, Irene Lozano, which also participates in it, he stressed the importance of the role of women in sport, at the same time, which demands the " working together to build a fairer world and more equal "
Madrid, 08 march 2021.- On the occasion of international women's day, the high council of sports (CSD) has launched a video that shows the importance of women in the world of sport in the different spaces that it covers. Well, athletes, chairpersons, directives, journalists and leaders claim its role within the Field of sport in which women have a presence.
The video, which has been disseminated through social networks of the CSD, it intends to give visibility to women, provide them with recognition they deserve and remember to citizenship the preponderant role that women had reached in sport.
The president of the supreme council for sports, Irene Lozano, which has also participated in it, he recalled that " together we move to build a fairer world and more equal ". " The presence of women in sport has advanced significantly, as we saw in rio 2016 where there were more medal winners, but that men are still lacking directives, Referees, utilleras, technical …. Much remains to be done ".
Ana Jose Cancio (sports journalist), Marisol Casado (president of the World Triathlon and member of the international olympic committee), Mercedes Coghen (olympic champion and vice-president of the Real federación española de Hockey), María Delgado (double paralímpica gold medalist in Swimming), Isabel García Sanz (president of the royal Spanish Federation and rescue), Bárbara Fuertes (assistant director-General, women and sport of CSD), Jenni Hermoso (captain of the selection of women cup), Irene Lozano (president of the supreme council for sports), Carolina Marín (olympic champion Bádminton), Mónica Marchante (sports journalist), Carmen Martín (captain of the female selection Balonmano), Jennifer Pareja (subcampeona and olympic champion of the world of water polo, and adviser to the president of the CSD), Guadalupe Porras (Arbitrator international assistant), Sandra Sánchez (world champion Karate Champion), and Lydia Valentín (three olympic gold medalist in powerlifting) are the women participating in the video produced to commemorate this 8-M.
Acto in CSD
In addition, earlier today, been a symbolic act has its own installations of the supreme council for sports paying tribute to women working in the institution. For a few minutes left on the windows to devote a heartfelt congratulations to all of them. It also act have been present athletes who train in the High performance centre of Madrid, headed by the olympic gold medalist Lydia Valentín, and the paralímpica, María Delgado.
It has also participated: Desirée Vila, (Athletics), Isabel Hernández (Swimming), Isabel Yinghuan (Swimming), Claudia Buxeda (Gimnasia Artística), Ana Pérez (Gimnasia Artística); Aintzane Gorría (Lucha); Alexia Sentías (Gimnasia Artística); Carmen Cano (Hockey Hierba), Beatriz Pérez (Hockey Hierba), Candela Mejías, (Hockey Hierba), Lara Pampín (Hockey Hierba), Raquel González (Athletics).
{"preview _ thumbnail": "/sites/default/files/styles/video _ embed _ wysiwyg _ preview/public/video _ thumbnails/90ATHRDED4E.jpg? itok = 4S _ f67NR "," video _ url "": https :// www.youtube.com/watch? v = 90ATHRDED4E "," settings ": {" responsive ":1," width ":" 854 "," height ":" 480 "," autoplay ":1}," settings _ summary: ["" Embedded Video (Adaptable, autoplaying). "]}