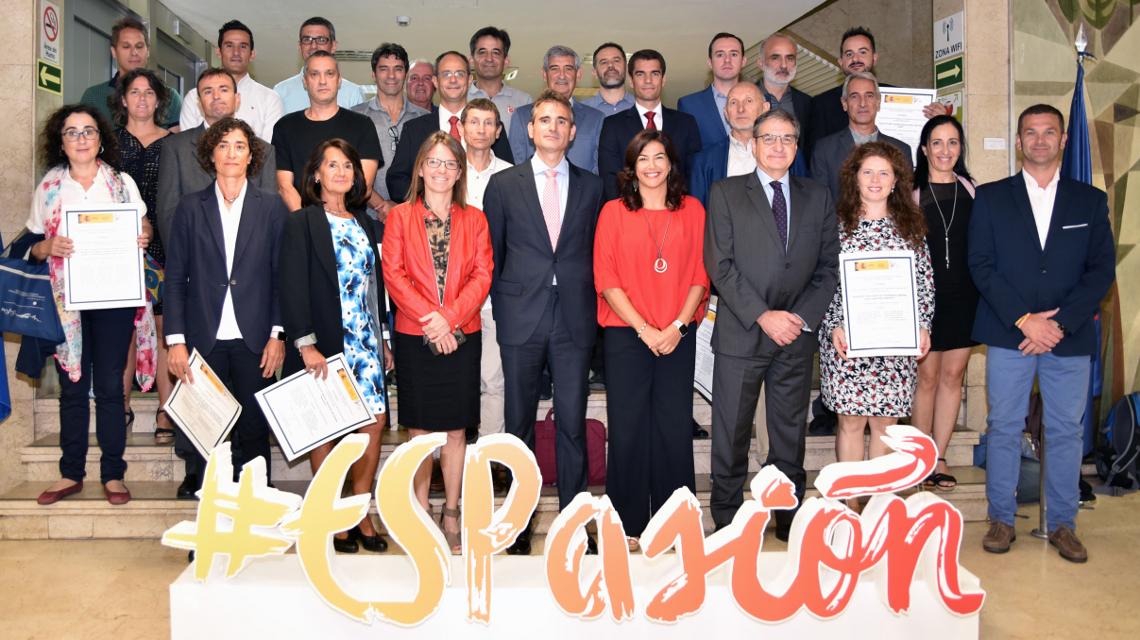 The CSD presents 21 research networks in sports science led by spanish universities
Rebounding economic support to the investigation had not been convened since 2012 and that encourages exchanges between universities
To cultivate a line of financial support to the investigation had not been convened since the year 2012 and that promotes the creation of spaces for exchanges between universities
To María José Free " we are a leader in university research and public policies will keep us moving forward "
Madrid, 1 october 2019.-The high council of sports (CSD) has presented today 21 research networks in sports science coordinated by spanish universities to receive grant this year in order to promote scientific research in sport.
During the event, the secretary of State for sport, María José Free, has ensured that spain is a " reference " in university research and that " thanks to public policies can be further progress in improving the system deportivo español ". In this line, has been committed to continue to invest in them and " join " and " synergies " among the agencies responsible for this.
Free has reminded us that the projects funded related to various areas related to sport, such as physical activity, health, women, sport inclusive, training in sports, science or new technologies. " Because everything that moves the sport and networks are going to help us to continue to improve ", has added.
These research networks involving 364 researchers, 58 companies, 9 and 14 national federations, two high performance centres Sports (Sierra Nevada CAR and Sant Cugat), 10 research groups, 14 foreign spanish universities and the european federation of handball.
Recovery of aid
With this aid, the CSD recovers a line of financial support to the investigation had not been convened since the year 2012 and that promotes the creation of spaces for exchanges between universities.
Thanks to the creation of these networks of research, the CSD seeks to promote the interaction between research at university level, the business and sports and to create synergies and linkages in strategic areas and novel on the whole system deportivo español.
Research networks
| | |
| --- | --- |
| UNIVERSITY | NETWORK NAME |
| UNIVERSIDAD PABLO DE OLAVIDE | RIASPORT state network of applied research on sports security |
| UNIVERSITY OF ZARAGOZA | EFPHS physical education and promotion of healthy habits |
| UNIVERSITY OF ZARAGOZA | EXERNET network of physical exercise and health |
| UNIVERSITY OF LEON | IN MOST NETWORK OF FEMALE FITNESS |
| UNIVERSITY OF OVIEDO | Cellular and molecular basis of physical exercise for health and performance - IN MOTU SALUS |
| NATIONAL INSTITUTE OF E. FISICA OF CATALONIA | LGBTI, physical education and sport (LGBTI EFD +) |
| UNIVERSITY OF MADRID POLITÉCNICA | INVESTIGACIÓN NETWORKS IN SPORTS SCIENCE: (Pregnancy and exercise) |
| UNIVERSITY OF MADRID AUTÓNOMA | RIADIS INVESTIGACIÓN NETWORK LEARNING SERVICE FÍSICA ACTIVITY AND SPORT FOR INCLUSIÓN SOCIAL |
| UNIVERSITY OF VIGO | RNPASD research network for people with disabilities: exercise, physical activity and sport Inclusive (RIPD-EAFDI) |
| ALICANTE UNIVERSIADAD | DETEINARFIBE network of innovative technological development for research and analysis of physical and physiological requirements in the handball elite |
| UNIVERSIDAD REY JUAN CARLOS | RAEFEC adherence to the network of Physical Exercise in patients with Chronic Diseases |
| UNIVERSITAT DE BARCELONA | Hypoxia, sport and health (HYPOXSPORT) |
| UNIVERSITY OF VALENCIA ESTUDI GENERAL | REDICYM spanish network of Research athletic performance cycling and Women |
| UNIVERSIDAD DE MURCIA | Brainactivity NEUROBIOLOGÍA NETWORK FÍSICA ACTIVITY |
| UNIVERSIDAD DE MURCIA | SPA 2.0 SPORTS PERFORMANCE ANALYSIS ASSOCIATION 2.0 NETWORK OF NETWORKS. |
| F. CATHOLIC UNIVERSITY OF VALENCIA | Hiking as a factor of development in rural areas (SendeRural) |
| UNIVERSIDAD EUROPEA DE MADRID | REFEREENET research network " women and arbitration in football " |
| UNIVERSIDAD EUROPEA DE MADRID | PERISCOPE research network in Epidemiology and prevention of Cardiovascular Risk in sport |
| FUNDACIÓ PER A LA UNIVERSITAT OBERTA DE CATALUNYA | Science and New Technologies Applied to sport and health: business intelligence, training, gender dimension, and benefits of sport on health |
| FUNDACIÓN UNIVERSITARIA SAN ANTONIO | ACTIVE AGEING, EXERCISE AND HEALTH / HEALTHY-AGE |
| FUNDACIÓ UNIVERSITÀRIA BALMES | Athletic performance analysis in athletics (Athletics Performance analysis) |
Download images:
https: / / www.flickr.com / photos / un _ photo / photos / 149228308@N03 / albums / 72157711146082963