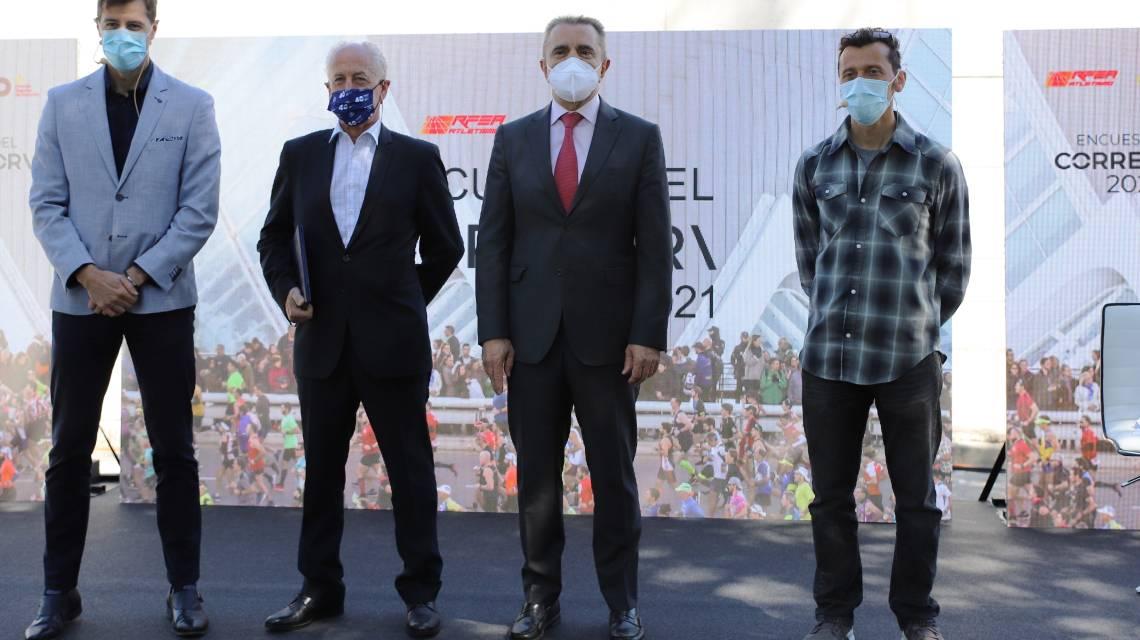 Franco: " If we work to achieve a more active society, we will achieve a more healthy society "
Presentation at Madrid of the " Survey of the corridor 2021 "
The main findings of the study, with a sample of over 14,200 corridors, show an increase of the practice ofrunningin spain in the past year and the growth of female participation
For a 56 per cent of respondents, one of the main reasons for go running was " to improve health ", and this percentage rises to 60 per cent in the case of women
For the president of the CSD, " such studies are designed to know the reality of the sector and to implement concrete actions for the relaunch of the sports practice "
Madrid, 25 may 2021.-The facilities of the high performance centre (CAR) in Madrid of the supreme council for sports (CSD) have welcomed the submission of the "Survey of the corridor 2021 "prepared by the magazine The Corridor with the support of the royal Spanish Federation of Athletics (RFEA).
The act of presentation has benefited from the presence of president of the CSD, josé Manuel Franco; the president of the RFEA, Raúl Plating; the director of the magazine corridor, Francisco Chico and the president of the international association of marathon, Francisco Borao.
The study, with a sample of the population of over 14,200 members, made a x-ray sector current courses in athletics. Among the conclusions of the survey, highlights an increase in the practice ofrunningin spain in the past year, with a 5.13 per cent of new corridors, the highest growth of the past 5 years, or the increased participation by 32 per cent.
In addition, as stated in the survey, a 56 per cent of respondents ensures that the key reason is that is to improve their health. This percentage rises to 60 per cent among women.
For the president of the CSD, josé Manuel Franco, " such studies are designed to know the reality of the sector and allow us to implement concrete actions for the relaunch of the sports practice ".
Franco, who congratulated the initiators of this initiative, emphasized the role played by sport during the days ahead of the pandemic " with a view to improving the physical and psychological health of citizens ".
" the close link between health and sports gets through in our society, which reinforces one of the lines of action of the next few years of the CSD, the promotion of physical exercise and sports to improve the quality of life of the population. If we work to achieve a more active society, we will achieve a more healthy society and better prepared for the challenges ahead " has highlighted the secretary of State for sport.
For its part, the president of the RFEA, Raúl Coating, has had an impact on the importance of insight into the sector and listen to the " corridors.runninginfluences have a more healthy society, happier and better ". The leader of athletics english had appreciated the work of the CSD during recent months, stating that " sport and physical activity were important for recovery ".
The "Survey of the corridor from 2021 "analysis of data relating to the runners and their participation in popular evidence. Its findings will be helpful in institutions, sponsors and organizers of sporting events.
The survey is available in the following link:https :// bit.ly/3oMhTmS