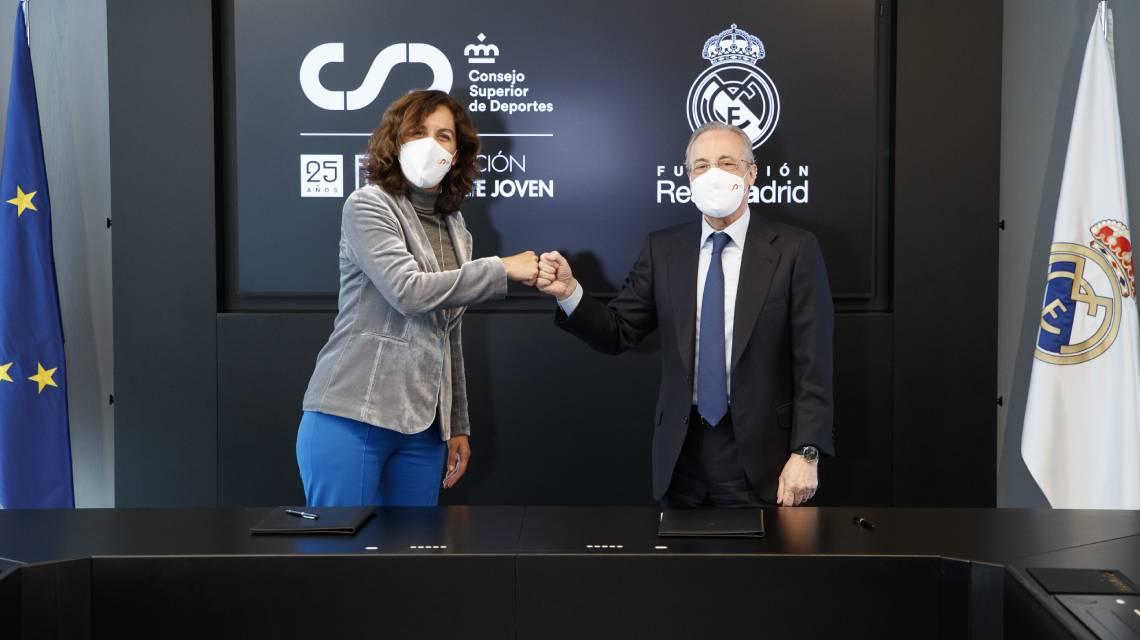 Irene Lozano and Florentino Pérez sign collaboration between the youth and Sport Foundation Real Madrid
 deutsche post The convention supports the sustainability of projects sociodeportivos of care for minors in centres
Madrid, 18 march 2021.-The president of the Real Madrid C.F. and of the founding Real Madrid, Florentino Pérez, received in Ciudad Real Madrid to the president of the supreme council for sports (CSD), Irene Lozano, to ratify the partnership between the Youth and Sport Foundation Real Madrid.
Es la segunda alianza entre ambas instituciones que ya colaboraron entre 2006 y 2011 en diversos programas, dados los objetivos comunes de fomentar la actividad física y los hábitos saludables desde la infancia, así como el interés por fortalecer una educación integral en valores universales positivos a través de la práctica deportiva y la atención a la diversidad desde el deporte.
Collaboration is focused on supporting the ongoing efforts of the Real Madrid Foundation in 25 juvenile facilities which caters for almost a thousand unaccompanied minors, protected by public administrations, with weekly sociodeportivas football and basketball courts values. The partnership contributes to the sustainability of these programmes.
During the meeting, the president of the council for sports and the foundation Sport young, Irene Lozano, has expressed its " satisfaction to shift to the collaboration with a flagship institution that embodies and so many values as is the Real Madrid, in this case through his foundation and can work together to promote a more disadvantaged groups, through a tool as inclusive as is the sport. In the foundation Sport Young — has added — we are working tirelessly to improve the lives of young people, and of society, through sport, and the institutions need to join forces to engrandecer our objectives ".
" in these difficult times we live in, since the Real Madrid Foundation and the Real Madrid we will intensify our efforts more for further work by those who need it most, especially boys and girls at risk of social exclusion; the Real Madrid Foundation will always be available to society and its institutions to collaborate on projects sociodeportivos as necessary as these, " said the president of the Real Madrid Foundation and the Real Madrid, Florentino pérez.
The signing of the ratification of the convention, also attended by the executive vice president of the Real Madrid, Enrique Sánchez, the director-General of the Foundation, félix Young Sport of Urríes Jordan and the managing director of fundación Real Madrid, Julio González Ronco.