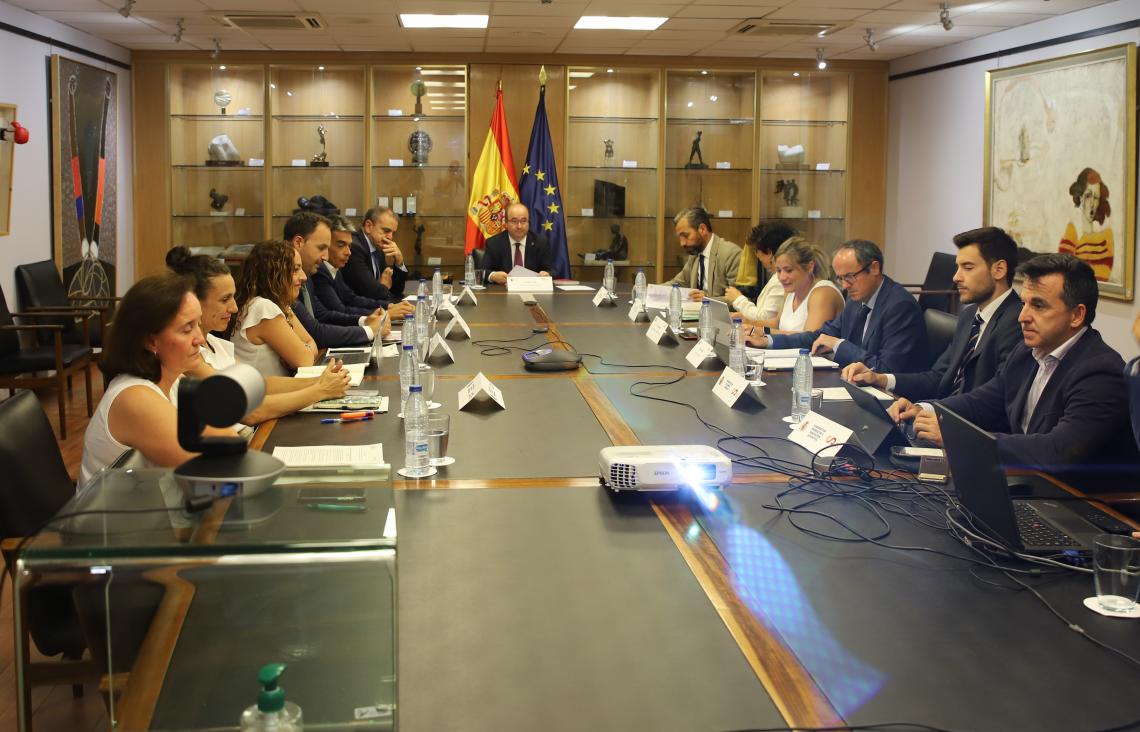 The Sectoral Conference approves $17.9 million to advance equality CC.AA. and inclusion in sport
The meeting, chaired by the minister Iceta, accompanied by the president of the CSD, josé Manuel Franco, has served to ratify the territorial distribution and criteria of distribution of this new game, belonging to the Social Plan of sport
With this investment, the Council Top of Sports sum almost 102 million of the recovery Plan territorializados between CC.AA. and autonomous cities for policies of digitization, ecological transition and equality
The minister of culture and sport, Miquel Iceta, accompanied by the president of the supreme council for sports (CSD), josé Manuel Franco, has chaired the meeting of the sectoral conference on Sport. It has been adopted unanimously the territorial distribution and the criteria of sharing between communities and Autonomous Cities of a new game of 17.9 million euros towards the promotion of equality of women and the inclusion of persons with disabilities in sports.
The meeting, which has taken place at the headquarters of the CSD, has allowed the minister Iceta bring together the advisers and directors general autonomous objectives, criteria of distribution and amounts of new game, framed in the 26 " Component promotion scheme sport " Sector of the recovery Plan, transformation and Resilience. In particular, the new game is treated in the Social Plan of sport, one of its three lines of action, which would be allocated more than $77 million in the coming years.
As explained above, this new line of aid - approved previously by the sectoral commission and the council of ministers - aims CC.AA. that implement strategies and actions for reducing inequalities in sport, with particular attention to gender equality and the inclusion of persons with disabilities. In this way it intends to move into opportunities, social cohesion and improvements for employment permanent, since the recruitment of the talent to the integration of groups at risk of exclusion through sport.
As stressed by the minister Iceta, " sport is without doubt, engine and catalyst of equality and inclusion in society " but " not only enough, but that requires resources, strategies and concrete steps it ".
Trade between CC.AA. proportional will be on the basis of criteria that take into account the total population, the number of persons with disabilities, the non-university educational institutions, autonomous federations or density of population.
The CSD has distributed more than one third of european funds to the sport
With the appropriation approved today in the sectoral conference, the CSD has territorializado almost 102 million between the autonomous communities and cities, of the total of 300 million under the Plan for the promotion of Sport Sector.
By axes, 75 million (of a total of 146 million) had been allocated to the modernization and ecological transition of sports; 9 million (of a total of 75.6) to the digitization of the ecosystem in sports; and $17.9 million (of a total of 77.9) to promote equality and social cohesion in the sport sector.
Distribution of resources under the heading " promotion of equality in sport ":
| | | | |
| --- | --- | --- | --- |
| NATIONAL and autonomous cities | TOTAL 2022 | TOTAL 2023 | TOTAL |
| 01 Andalusia | 1.785.612,86 | 513.845,43 | 2.299.458,29 |
| 02 Aragon | 617.767,56 | 177.774,84 | 795.542,40 |
| 03, Principality of Asturias | 488.364,65 | 140.536,59 | 628.901,24 |
| 04 Balears, Illes | 439.669,75 | 126.523,67 | 566.193,42 |
| 05 Canary Islands | 618.621,14 | 178.020,47 | 796.641,61 |
| 06 Cantabria | 388.410,80 | 111.772,89 | 500.183,69 |
| 07 Castile and león | 822.872,35 | 236.797,80 | 1.059.670,15 |
| 08 Castilla - La Mancha | 756.476,65 | 217.691,12 | 974.167,77 |
| 09 Catalonia | 1.685.241,67 | 484.961,63 | 2.170.203,30 |
| 10 Valencia | 1.115.201,86 | 320.921,40 | 1.436.123,26 |
| 11 Extremadura | 566.239,59 | 162.946,64 | 729.186,23 |
| 12 Galicia | 880.415,45 | 253.356,96 | 1.133.772,41 |
| Madrid, 13 community | 1.272.102,98 | 366.072,80 | 1.638.175,78 |
| 14 Region of Murcia, | 579.752,97 | 166.835,39 | 746.588,36 |
| 15 Navarra, Comunidad Foral de | 462.699,87 | 133.151,04 | 595.850,91 |
| 16 Basque Country | 632.763,28 | 182.090,15 | 814.853,43 |
| 17 Rioja, | 389.561,08 | 112.103,91 | 501.664,99 |
| 18 Ceuta | 196.249,64 | 56.474,72 | 252.724,36 |
| 19 Melilla | 201.975,85 | 58.122,55 | 260.098,40 |
| Grand Total | 13.900.000,00 | 4.000.000,00 | 17.900.000,00 |