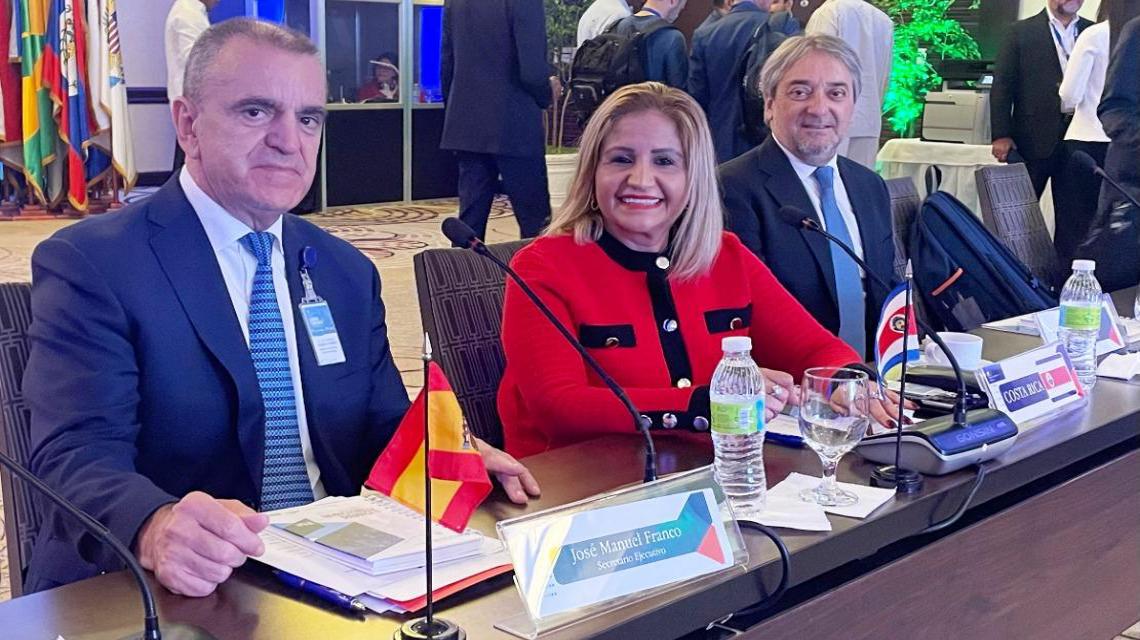 José Manuel Franco ofrece España como hub de entrenamiento olímpico para los deportistas iberoamericanos
El secretario de Estado para el Deporte ha participado en la XVIII Asamblea General del Consejo Iberoamericano del Deporte (CID)
The secretary of State for sport proposes in Santo Domingo welcome into the network of spanish sports training athletes in latin america who participate in paris 2024 and Milán-cortina d ' Ampezzo 2026
"Por sus vínculos con Iberoamérica y la proximidad geográfica con Francia e Italia, creemos que España es el enclave perfecto para el entrenamiento de los deportistas olímpicos y paralímpicos de los países miembros del CID", ha subrayado Franco en la Asamblea General del organismo
El presidente del Consejo Superior de Deportes (CSD), José Manuel Franco, ha propuesto hoy, durante su intervención en la XVIII Asamblea General del Consejo Iberoamericano del Deporte (CID) celebrada en Santo Domingo, que España se convierta en unhubde entrenamiento olímpico para los deportistas iberoamericanos que participen en los Juegos Olímpicos y Paralímpicos de París 2024 y Milán-Cortina d'Ampezzo 2026.
In the framework of cooperation and exchange which promotes the CID, the secretary of state for sports has offered the network of centres of high performance Sports Canoe specialization and delegations that may require to carry out preparatory training stays in our country.
"Por sus vínculos con Iberoamérica y por la proximidad geográfica con Francia e Italia, creemos que España es el enclave perfecto para el entrenamiento de los deportistas olímpicos y paralímpicos de los países miembros del CID", ha explicado Franco ante los representantes gubernamentales de los 22 países que conforman el organismo.
El presidente del CSD considera asimismo que convertir a España en un "espacio común de entrenamiento iberoamericano" es una "apuesta segura" tanto para los deportistas de otros países como para los españoles, que podrán beneficiarse del "conocimiento mutuo, el intercambio de técnica y experiencia y de la sana competitividad deportiva".
Como ha desgranado durante su intervención, España cuenta con un total de 57 centros y 313 programas deportivos reconocidos por el Consejo Superior de Deportes, del que actualmente se benefician cerca de 10.000 deportistas de todas las categorías.
In this regard, pointed out that our country is the only one of the european Union has allocated a specific recovery funds sport - eur 300 million, which will allow for the modernization and digitization of the network of centres and a " revolution " of the ecosystem of the high performance english.
Nearly three decades of international cooperation in sport
With its celebration in Santo Domingo, the General assembly of the idc has regained its face format after the pandemic, welcoming both at the highest government authorities of sport and representatives of international institutions such as the ibero-american secretariat, OEI, UNESCO, UN, Women, LaLiga GIZ JOMA, Sport, WADA, Observatorio Spain actively and REDIMYD, entities with which the CID maintains important partnership arrangements.
Durante esta misma semana, la República Dominicana acoge la Cumbre del Deporte Iberoamericano, que incluye las asambleas del CID y del Consejo Americano del Deporte (CADE), así como los Consejos Regionales, Consejo Sudamericano del Deporte (CONSUDE) y el Consejo Centroamericano y del Caribe del Deporte (CONCECADE). El presidente de la República Dominicana, Luis Abinader, ha sido el encargado de inaugurar la Cumbre.
For its part, josé Manuel Franco also plans to visit tomorrow, wednesday socio-deportiva school foundation Hainamosa in Madrid, which promotes social inclusion and integral education of children and adolescents through football and basketball. A visit organised in collaboration with the embassy of Spain and the spanish agency for international development cooperation (AECID).