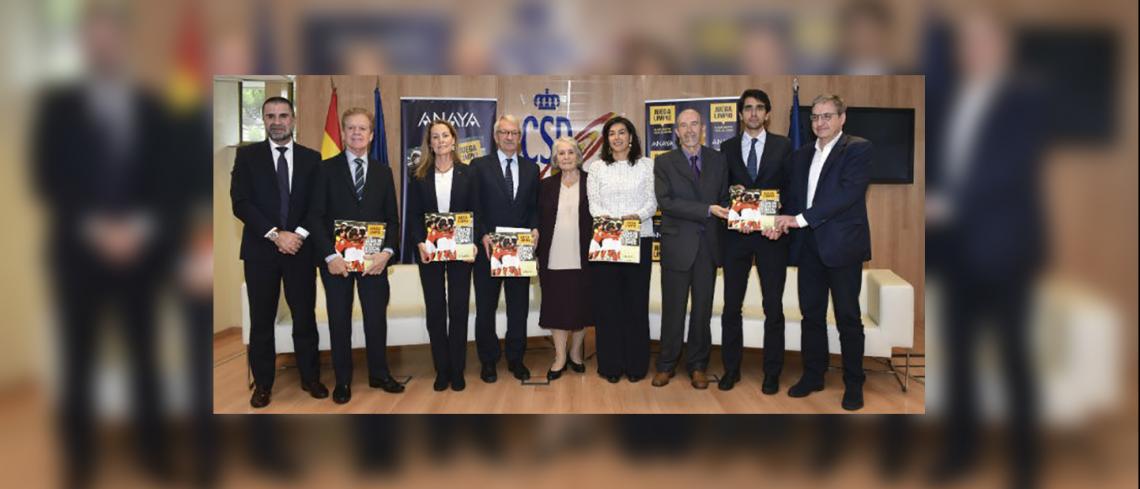 Free: "sport helps to train people in a society that is increasingly activities but which is less active "
Madrid, 22 November 2018.The Superior Council of Sports today has hosted the presentation of the educational programme "Plays clean, the educational and social value of sport ". This event has been chaired by the secretary of state for sport, José María Free, accompanied by the state secretary of education and training, Cybele Tiana, the programme manager, Francisco Javier Martin in the hamlet, coauthor of the program, Theresa Zabell, and the director of the division Of educational Anaya Group, Carlos Marchena.
During this event, which has been submitted by the journalist from TVE Dove of the river, María José Free commented that "sport is the best tool for personal and professional growth of individuals and to improve our quality of life. It helps us to work as a team by an objective, to break down barriers, build, and to form people with values within a society that has increasingly activities but which is less active, " said the Secretary of state for sport.
Free has highlighted also that this program "will always have the support of Higher Council of sports. This book is essential support to combat sedentarism, to protect minors, to promote inclusion and physical activity and education in values. Athletes are our best ambassadors, they made visible all these values, why boys and girls want to be like them and them," added Free in the presentation.
Cybele Tiana has stressed that "sport enriches persons in its development, strengthens self-esteem, develops inclusive behaviour, but it is also essential to encourage civic behaviour and respect to standards. Therefore must be present at all stages of education, from school age, since childhood, during adolescence and youth ".
Francisco Javier Martin in the hamlet, coordinator of the book, has stressed that the program "is innovative and implies the kinder face and formation of educational and pedagogical potential of sport. Physical activity is necessary because shapes attitudes and skills thanks to the values of feeling, monitoring and work. " Martin in the hamlet has dedicated the book to Juan Antonio Samaranch – his grandson has been at the event) and José María Cagigal - whose widow, Isabel, has also attended the acto-" because don two legends, two leaders and two visionaries of sport ".
Theresa Zabell, double Olympic champion of sailing, has said that "sport is the best school for life. With this does not say that children cease to go to school, but what teaches you sport is not learnt in any subject. This book is a seed that is going to achieve great results, it invests in sport reflected years later multiplied exponentially. Everything that is done will be little, " said the gold medalist in Barcelona 92 and Atlanta 96.
Carlos Marchena, director of the division educativa the editorial Anaya, has said that the book was "a comprehensive training of the person. Sport helps to learn, helps to grow to people and has no expiry date. "
The book has 270 pages. They have collaborated known signatures of sport as the athlete Arturo Married, former basketball players Fernando Romay and José Manuel Beirán, the cyclist Eduardo Huts, the former journalist José Ángel of the house and the director of the Sand Luis José AEPSAD, among others. The work was not trade but issued 13,000 copies free of charge in all colleges and schools in Spain.